Winter is right around the corner, which means a few things for horse owners: indoor lessons, blanketing, hand warmers and colic. Colic is more frequent in the winter months primarily because animals decrease their daily water intake. So, let's talk winter colic.
Horses usually drink nearly 5-12 gallons of water per day. However, in the winter, they tend to cut back on their water intake. When your horse drinks less water, digestion can be affected due to a lack of moisture in the gut, or dehydration. This can cause feed to get stuck in the pelvic flexure of the colon, creating a problem known as impaction colic.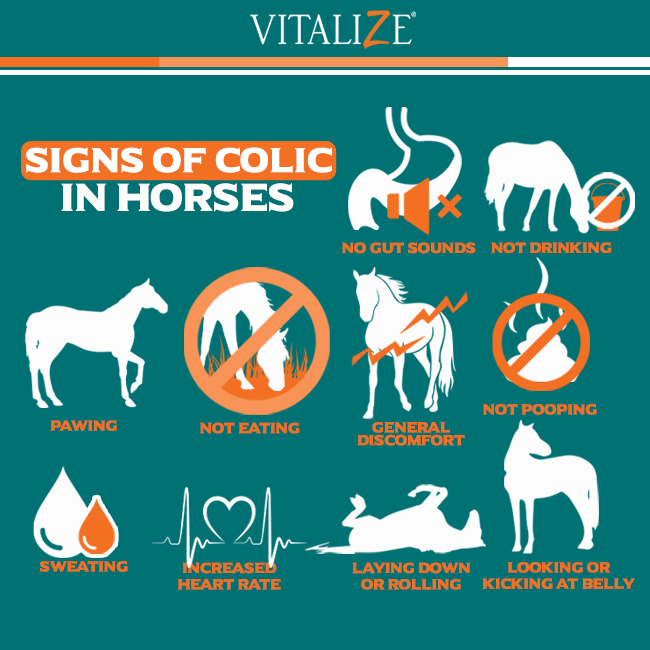 Experts in Digestive Health 
At BioZyme® Inc., makers of Vitalize®, we like to think of ourselves as experts in digestive health. Our 70+ years of experience in animal nutritional and digestive health have supported the development of the Vitalize brand. Vitalize is a line of supplements for horses and dogs with proven solutions to keep your animal healthy and performing. Our primary ingredient in most supplements is AO-Biotics® Amaferm®, prebiotic research-proven to enhance digestibility, which gives your horses a #goodgutfeeling.
That's why we created this blog—to provide helpful information and insight to everyone trying to care for their horses, keep their barn healthy and prevent winter colic. 
Be sure to provide heated water buckets or a water heater for outdoor tanks and clean water bucket or tanks frequently. This prevents the water from freezing and encourages more water intake from your horses.
Five Easy Tips to Avoid Winter Colic 
Here are 5 top tips from Vitalize to help you avoid winter colic this season:  
1. Provide clean, fresh, warm water 24/7  
Horses can be finicky, and they will always tattle on you if you forget to clean their water. They also don't prefer cold water. They actually prefer water that is between 45-65 degrees Fahrenheit.
If you unplug the heaters overnight when horses come inside, be sure to break the ice in the morning. While this may seem like a given, clean, fresh water is the most crucial part of preventing winter colic in colder months.  
2. Supplement an electrolyte  
You can lead a horse to clean, fresh, warm water, but we can't make it drink. If your horse's water intake seems to be declining, offer an electrolyte at mealtime. Electrolytes will help your horse feel thirsty. This will help your horse feel the need to drink—increasing its water intake in the winter months.  
3. Free-choice forage, fed on the ground  
Now, more than ever, is the time to make sure your horse has free-choice hay. Because horses are grazing animals, in the wild they will roam at all hours of the day, eating as they go. If you own a 4-legged forage vacuum that considers free-choice the ultimate eating challenge, give hay as many times a day as is possible.
As horses spend more time indoors due to weather, it is crucial to make sure their digestive systems are actively working. It is at times of empty stomachs when they will be more likely to show winter colic symptoms.
Additionally, feeding hay on the ground is important to let their sinuses drain. If fed in an above hay feeder, horses can develop respiratory issues.   
4. Turnout and Exercise  
Although the temperatures may be dropping, turnout and exercise are even more important to help prevent colic. Having time to move around each day helps the digestive system stay healthy. If your horses cannot go out due to the weather, look for alternatives.
Hand walking each day will not only help with this but will also increase their overall morale and attitude. 
When everyday preventions are not enough, Vitalize Equine Gel has your back (and your horse's gut!). When administered at the first signs of digestive upset, it has been known to provide quick relief.
The gel contains Amaferm, a natural prebiotic research-proven to enhance digestibility. It also contains MOS (mannan oligosaccharide) to help normalize hindgut microflora and support the immune system. More than just that, though, it's full of antioxidants, organic minerals and vitamins for maximum support of immune function and stress recovery. 
Real Word Solutions for Real World Challenges 
If you own a horse, chances are you have been impacted by colic. Although it can be scary, you can work towards preventing winter colic by following the above barn management tips. 
Adding Vitalize to your horse's diet is a smart choice, not just in the winter, but year-round. Vitalize is a line of supplements for horses and dogs with proven solutions to keep your animal healthy and performing. Explore some of our daily use best-sellers including:
Vitalize Alimend® is a liquid product for horses designed to support gastric health and GI tissue, which may relieve occasional gastric issues commonly associated with training, traveling, and performance.
Vitalize Equine Free Choice is a highly fortified, free-choice vitamin and mineral supplement for horses of all ages and stages while on pasture.
Vitalize Digest More® Plus is a pelleted supplement for horses designed to support hindgut health and digestion of nutrients as well as hoof and coat health. 
Commitment to Safe, Accurate Products 
At BioZyme Inc., the home of Vitalize, we are committed to making safe, accurate products for horses and all animals. That is why Vitalize products meet several quality indicators, including using research-proven ingredients and an ionophore-free closed production system.
In addition, BioZyme is a member of the National Animal Supplement Council (NASC), and its Vitalize products carry the NASC Quality Seal on products specifically designed for the equine and companion animal health markets.
Finally, several of our Vitalize supplements have been Clean Sport tested and certified, leaving you the peace of mind you deserve. 
Give Your Horse a Good Gut Feeling 
If you're anything like us, you want to do everything in your power to protect your horses against winter colic. Do you have Vitalize Equine Gel in your tack trunk, feed room, or trailer? Be proactively prepared for winter colic and Find a local dealer near you and protect your horses today!
Would you like to know more about the complete line of Vitalize products to know which is best to feed the horses in your barn? Check out our Vitalize Equine Health Quiz.
Traveling or looking for products to purchase online? We've got you covered there, too. Buy any Vitalize product online.
Perhaps you want your local dealer to start carrying Vitalize? You can also refer a dealer online.