Care that comes full circle. Those five words are more than just a company motto. They are the words that BioZyme® Inc. employees live by.
From manufacturing to marketing, our staff owns animals and cares for them deeply. We know that animal lovers care for their animals too. That is why making safe, accurate products for our equine companions and yours is our number one priority.
Here are the top five ways BioZyme ensures that Vitalize® equine supplements are safe and accurate for your horses.
The 5 Quality Indicators of Vitalize Equine Supplements
1. NASC Certified
BioZyme is a member of the National Animal Supplement Council (NASC), and its Vitalize products carry the NASC Quality Seal on products specifically designed for the equine and companion animal health markets.
The NASC works "to promote the health and wellbeing of companion animals and horses that are given animal health supplements by their owners and to protect and enhance the animal health supplement industry."
Our Commitment
Companies that are members of the NASC must go through rigorous quality assurance audits, meaning they deliver the absolute highest-quality products available on the market. Along with demonstrating quality standards and cGMP compliance, marketing materials have been updated. The BioZyme website and language have been reviewed, product labels audited and updated, and all product ingredients have been reviewed by the NASC scientific advisory committee. The last step is a third-party onsite audit of the companies' manufacturing facilities to ensure all quality standards were met or exceeded.
"The NASC seal signifies our commitment to quality, vigilance and continuous improvement to promote the well-being of companion animals and horses. We are doing our part to help elevate and standardize the animal health product and supplement industries," said Jill Vanover, Ph.D., Director of Quality and Regulatory.
2. Research-Proven Ingredients
Vitalize products contain ingredients that are backed by research as well as multiple U.S. patents.
Amaferm is a prebiotic research-proven to enhance digestibility. With more than 100 research papers and presentations, it is derived from BioZyme's innovative fermentation of Aspergillus oryzae (AO) that has been shown to increase digestion by up to 17%. Amaferm is what gives the horses a good gut feeling when they use the Vitalize products.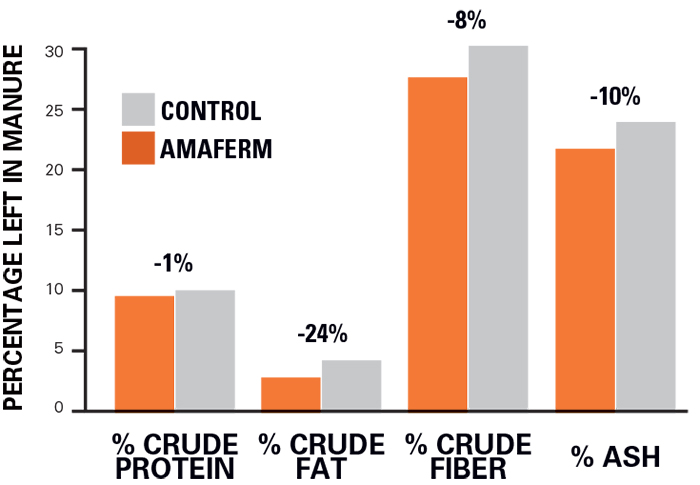 The second ingredient found in several Vitalize products, which gives your partner more than a good gut feeling. MHB3 is a high molecular weight hyaluronic acid patented and proven for the support of joint, bone, and soft tissue health to aid in supporting sustainable soundness in both horses and dogs.
MHB3 supports bone, joint, and soft tissue health paired with beta-glucan. It has been proven to improve or resolve ulcers in more than 90% of horses within 30 days (N. Slovis, 2017). In another study, high molecular weight HA, like MHB3 Hyaluronan, can significantly protect gastric mucosa from injury. (Al-Bayaty et al., 2011).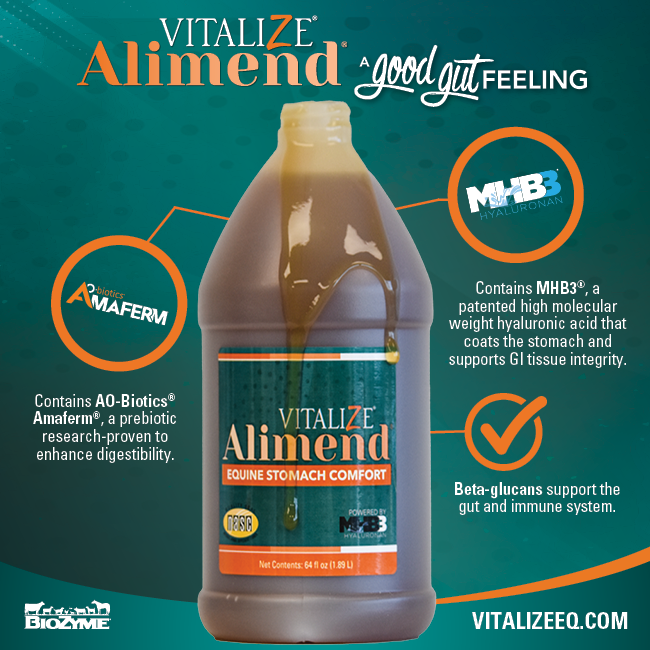 "We believe that part of putting forth products that truly do what we say they do, is also generating the research to support our proprietary ingredients AO-Biotics Amaferm and MHB3 Hyaluronan and our finished products," Vanover said.
3. Ionophore-Free Production
Vitalize utilizes an ionophore-free closed production system. BioZyme has taken great care to ensure that our Vitalize products are safely made and have no risk of ionophore contamination.
Yes, BioZyme does make supplements for other species; however, it takes very great care to ensure that our Vitalize products are made utilizing ionophore-free production.
Liquids and gels are manufactured by our sister company, Cogent Solutions Group in Lexington, Kentucky, and pellets are made after our Saint Joseph facility is cleaned, and never after our Rumensin product.
We take the care that comes full circle very seriously when it comes to our equine companions.
Horses are very sensitive to ionophore poisoning compared to other species. For example, the safety zone for monensin in horses is 2 to 3 mg, but cattle can tolerate 20 to 34 mg and poultry 90 to 200 mg. A horse could be dead in less than 24 hours after consuming a toxic among of ionophores, which is why the plant where our products are made is fully cleaned and free of any ionophores.
4. Low NSC Formulas
Vitalize equine supplements are low in non-structural carbohydrates (NSC), or simple sugars and starches. While these carbohydrates can be an important part of a balanced diet, some horses may be more sensitive to them. Using low NSC formulas allows Vitalize products to be used safely across many different horses and ponies.
"A key driver for us during product development is to create formulas without contraindications so that our products can bring care that comes full circle to the greatest number of animals, and humans, possible," Vanover said.
5. "Clean Sport" Certified
Several Vitalize equine supplements were recently Clean Sport tested! Our testing guidelines were set by the United States Equestrian Federation (USEF), International Federation for Equestrian Sports (FEI), and International Federation of Horseracing Authorities (IFHA).
Clean Sport Equine Supplements
The popular gel or liquid products include:
This testing provides peace of mind for horse owners, riders, and trainers that Vitalize equine supplements can be safely used before and during competition.

Whether you are feeding an Olympian, NFR champion or hobby horse, safe, accurate products are of utmost importance to BioZyme. We know each and every equine companion is invaluable to our customers. We know that safety and accuracy are the first components to care that comes full circle, and we want you to feel good about giving your horse a good gut feeling with Vitalize.
Rely On Vitalize
Want to know how to get a hold of our quality equine supplements? You can check out our website to either purchase them online or find a local dealer! 
And if you're looking for more information about deals, discounts, and product details, sign up for our monthly newsletter!