Who likes to feel that uneasy feeling that stress causes? Certainly, if humans don't, their equine counterparts don't either. Imagine the stress that comes with hauling, performing, showing and illness such as colic. In addition to the above-mentioned stressors, horses are prey animals, so they typically have some added anxiety pent up inside of them.
What is Vitalize Equine Recovery Gel? 
To help your horse get back on its feet after the stress of trauma, illness or performance, Vitalize Equine Recovery Gel is an all-in-one prebiotic gel. It contains the ideal balance of vitamins, organic minerals, amino acids and antioxidants as well as MOS and the research-proven prebiotic, Amaferm®  for maximum support of immune function and stress recovery.  
If your horse is stressed, Vitalize Equine Recovery Gel is the one solution you need for your horse to feel its best. The Recovery Gel provides the offense of Amaferm, defense of MOS, antioxidants for muscle recovery and electrolytes for competing without the need of multiple gels or pastes.
Administer up to twice daily during: 
Competition 
Traveling/hauling 
Antibiotic therapy 
Worming or vaccinations 
Surgery recovery 
Sickness/illness 
Digestive upset (diarrhea, colic) 
Going off feed or water 
Vitalize Equine Recovery Gel offers a multitude of relief for your horse. The Amaferm provides immediate relief from digestive upset or colic. Amaferm also provides hindgut support because it helps buffer the hindgut and keep a balanced microbe. The combination of Amaferm and electrolytes encourages eating and drinking, especially during times of stress and recovery. Antioxidants support exercise recovery for the muscles. And, because gastric health is directly linked to immune health, the Vitalize Equine Recovery Gel helps boost the immune system especially in foals and weanlings.   
In addition to Amaferm, for that #goodgutfeeling, the Vitalize Equine Recovery Gel contains water, salt, yeast extract, Vitamin E supplement, potassium sorbate (a preservative), zinc proteinate, citric acid (a preservative), carrot, xanthan gum, potassium chloride, natural and artificial flavor, niacinamide, d-calcium pantothenate, vitamin B-12 supplement, ascorbic acid, riboflavin, pyridoxine hydrochloride, thiamine mononitrate, biotin and folic acid. 
With more than 50 years of extensive published research and over 110 university and clinical studies, Amaferm (Aspergillus oryzae fermentation product) is a natural, precision prebiotic to support the horse's entire digestive system resulting in an increase in digestibility, absorption of nutrients and volatile fatty acid (VFA) production. Amaferm has been shown to increase digestibility by up to 17% and absorption by up to 30%.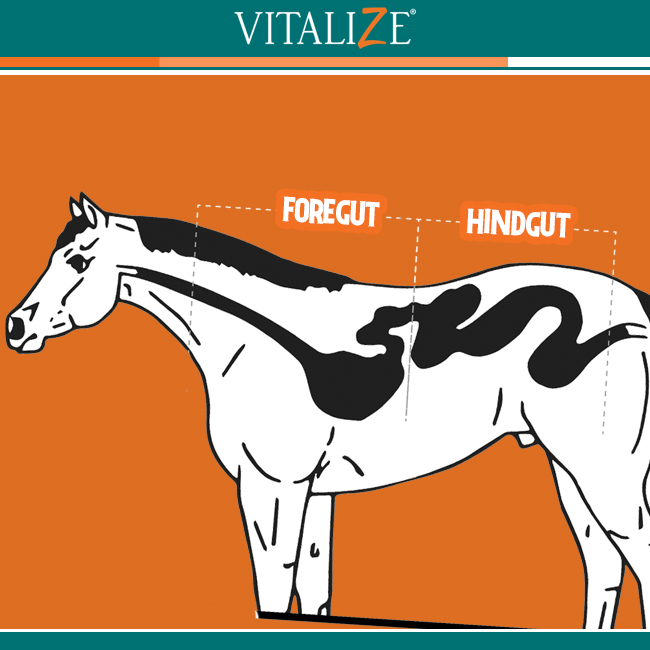 In the foregut, Amaferm works to keep the intestinal environment stable, enhance the response of the immune system and ward off pathogenic challenges. Amaferm, in the hindgut, works to stabilize pH to minimize digestive upset, maximize beneficial fiber digesting bacteria, increase microbial enzyme secretion for better overall digestion and increase production of volatile fatty acids for energy Studies: (McDaniel J. Anim Sci 71 2164-2172). 
Vitalize Equine Recovery Gel is a quick-response product that your horse and you will rely on to eliminate stomach upset due to unwanted stress. It's an all-in-one go-to product that will become your new favorite traveling companion, and your horses' too.