Equine enthusiasts traveling to the West Coast this winter for competition will have the opportunity to give their horses the #goodgutfeeling they deserve while at the Desert International Horse Park (DIHP) in Thermal, California. Earlier this fall, the DIHP Feed Store began carrying select Vitalize® products to help support the gut health needs of the equine athletes onsite.
"We are excited to continue to grow our presence in the west," said Lynsey Whitacre, Ph.D., Companion Animal Business Development Manager. "We know that many of our customers enjoy competing at the Desert Horse Park, and we look forward to providing them convenient options to purchase Vitalize products while they are on the road."
As one of the premier horse parks in North America, DIHP hosts 15 weeks of world-class competition from October through March. The recently updated DIHP Feed Store offers great options such as online ordering and deliveries directly to your barn aisle or stall. Currently, the store is stocking three of the most popular Vitalize Equine products: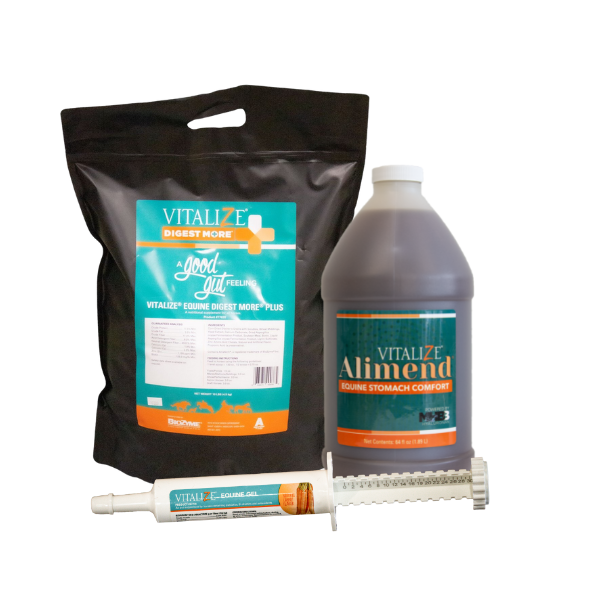 Vitalize Alimend® – A product that supports gastric health and GI tissue in horses and may relieve occasional gastric issues commonly associated with training, traveling and performance. It is a unique blend of: MHB3® Hyaluronan, H. erinaceous (Lion's mane) extract and Amaferm®.
Vitalize Digest More® Plus – A pelleted supplement that supports hindgut health, digestion and absorption of nutrients as well as hoof and coat health.
Vitalize Equine Gel – A prebiotic and nutrient-rich gel that gives immediate support to the horse's digestive and immune systems.
Visit the DIHP website to place your order and give your horses the #goodgutfeeling they deserve to keep them healthy, happy and performing to their fullest potential.
To learn more about Vitalize products or find a dealer near you, wherever you are, visit www.vitalizeeq.com.