Don't you feel better when you have additional protein in your diet? A steak or a cheeseburger usually does the trick, but for your equine companions, that won't satisfy them. That's when a supplement with added protein is necessary.
What is Vitalize Equine Protein Pellet? 
Vitalize Equine Protein Pellet is a pelleted, natural protein supplement fully fortified with vitamins, minerals and organic trace minerals for horses not receiving additional grain or that are eating very low-quality forage. 
Vitalize Protein Pellet is ideal for growing horses, breeding horses, performance horses, senior horses or hard keepers not receiving adequate protein from the diet due to low-quality forage or limited grain intake. 
Vitalize Protein Pellet is 24% protein, providing the additional quality protein that is lacking in a horse's diet. In addition, the Amaferm provides overall digestive wellness with an increase in digestibility by 17%, and absorption by 30%. The Free Choice mineral prevents the hindgut ulcers because Amaferm helps to buffer the hindgut and keep a balanced microbe. In addition, the added vitamins and minerals provide fortification in the diet that is necessary for everyday life, and the Amaferm assists in weight gain through increased nutrient absorption. Finally, the biotin and zinc promote hoof and coat health.
Additional ingredients to the Amaferm include soybean meal, wheat middlings, dicalcium phosphate, cane molasses, soybean oil, potassium chloride, calcium carbonate, lignin sulfonate, vitamin E supplement, selenium yeast, zinc sulfate, magnesium oxide, d-calcium pantothenate, riboflavin, vitamin B12, niacinamide, folic acid, pyridoxine hydrochloride, manganese sulfate, copper sulfate, biotin, natural and artificial flavors, zinc amino acid chelate, niacin supplement, propionic acid (a preservative), acetic acid (a preservative), benzoic acid (a preservative), sorbic acid (a preservative), manganese amino acid chelate, copper amino acid chelate, mineral oil, thiamine mononitrate, vitamin A supplement, vitamin D3 supplement and ethylenediamine dihydroiodide. 
With more than 50 years of extensive published research and over 110 university and clinical studies, Amaferm (Aspergillus oryzae fermentation product) is a natural, precision prebiotic to support the horse's entire digestive system resulting in an increase in digestibility, absorption of nutrients and volatile fatty acid (VFA) production. Amaferm has been shown to increase digestibility by up to 17% and absorption by up to 30%.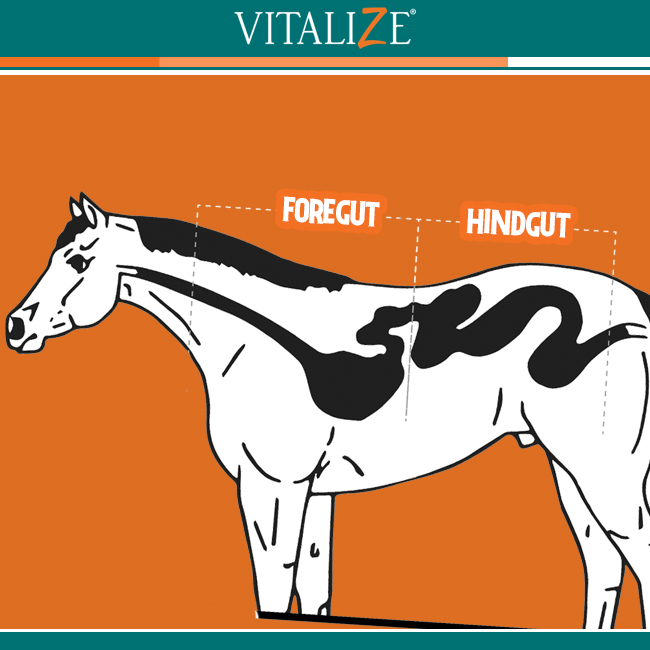 In the foregut, Amaferm works to keep the intestinal environment stable, enhance the response of the immune system and ward off pathogenic challenges. Amaferm, in the hindgut, works to stabilize pH to minimize digestive upset, maximize beneficial fiber digesting bacteria, increase microbial enzyme secretion for better overall digestion and increase production of volatile fatty acids for energy Studies: (McDaniel J. Anim Sci 71 2164-2172). 
Give your horse the #goodgutfeeling it deserves with the additional protein it needs to function to its optimum potential. Feed your horse the Vitalize Equine Protein Pellet and see the difference in its health and performance.