Don't you want the best for your horse? Even if you're not a rodeo athlete qualifying for the NFR or a jumper trying to make the Olympic team, horses hold a big part of our heart, and we want the best for them while they are in the pasture, living their natural lives as grazers. That's why it's important to provide them vitamins and minerals on a daily basis.
What is Vitalize Equine Free Choice Mineral?  
Vitalize Equine Free Choice Mineral is a highly fortified free choice or top-dress loose vitamin and mineral supplement that contains Amaferm®, a natural, precision prebiotic that is research-proven to increase nutrient absorption and digestion of feed. Vitalize Equine Free Choice is ideal for any horse on pasture at all ages and stages of life. This mineral can also be top dressed on grain, if preferred.  
This free-choice mineral with the Amaferm advantage offers several key benefits. The Amaferm provides overall digestive wellness with an increase in digestibility by 17%, and absorption by 30%. The Free Choice mineral prevents hindgut ulcers because Amaferm helps to buffer the hindgut and keep a balanced microbe. In addition, the added vitamins and minerals provide fortification in the diet that is necessary for everyday life, and the Amaferm assists in weight gain through increased nutrient absorption. Finally, the biotin and zinc promote hoof and coat health.
Additional ingredients to the Amaferm include corn distillers dried grains with solubles, monocalcium phosphate, soybean meal, salt, calcium carbonate, potassium chloride, magnesium oxide, mineral oil, zinc sulfate, manganese sulfate, d-calcium pantothenate, riboflavin, vitamin B12, niacinamide, folic acid, pyridoxine hydrochloride, vitamin E supplement, copper sulfate, sodium selenite, niacin supplement, manganese amino acid chelate, biotin, zinc amino acid chelate, cobalt carbonate, natural and artificial flavors, vitamin A supplement, thiamine mononitrate, copper amino acid chelate, garlic oil, ethylenediamine dihydroiodide and vitamin D3 supplement.
With more than 50 years of extensive published research and over 110 university and clinical studies, Amaferm (Aspergillus oryzae fermentation product) is a natural, precision prebiotic to support the horse's entire digestive system resulting in an increase in digestibility, absorption of nutrients and volatile fatty acid (VFA) production. Amaferm has been shown to increase digestibility by up to 17% and absorption by up to 30%.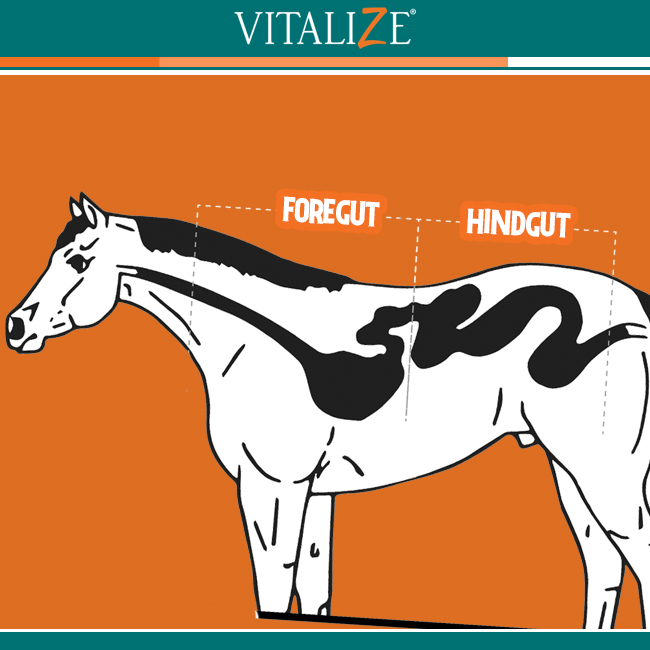 In the foregut, Amaferm works to keep the intestinal environment stable, enhance the response of the immune system and ward off pathogenic challenges. Amaferm, in the hindgut, works to stabilize pH to minimize digestive upset, maximize beneficial fiber digesting bacteria, increase microbial enzyme secretion for better overall digestion and increase production of volatile fatty acids for energy Studies: (McDaniel J. Anim Sci 71 2164-2172). 
Keep your horses feeling their best every day with the Vitalize Equine Free Choice mineral. Packed with the Amaferm advantage, zinc, biotin and vitamins and minerals, this is the ideal supplement for any horses out on pasture, commingled with cows or even to top dress on grain.